Ergonomic Information
Ergocare focuses on providing ergonomic furniture and equipment that supports a healthy working environment. We offer a wide range of ergonomic products which assist in helping you work in an ergonomic way.
The Ideal Office from Fellowes®
Fellowes® has been busy working to create the perfect workplace environment. The result of which is the Ideal Office.
Ideal Office offers practical advice to help you create the ideal working environment – an environment that works around you and the way you work today.
When you consider just how much time we spend at our desks, the average office worker spends around 80,000 hours seated in the course of their working life, it is essential for you to be working in the best possible way.
By doing so you can achieve the best results and enjoy the best of health!
Read about the latest information relating to ergonomics in the office from Fellowes®.
Ergonomic Helpful Hints from Fellowes®
Avoid a slouching back. Good posture is achieved by sitting back into your chair. A back support and foot support will help you to sit correctly.
One in four of us suffer from pain or injury caused by pressure on the wrists. Wrist supports help to relieve this pressure and prevent potential injuries.
If you want to prevent severe neck pain (it accounts for almost a third of all absences from work), make sure you are sat approximately an arm's length away from your screen and it's at the correct height for comfortable viewing (eye level is recommended). A laptop or monitor riser will help you to achieve the correct position.
Accessories you use frequently should be within easy reach. Work smart – and stay organised!
Last but not least, remember to take regular breaks - away from your desk and technology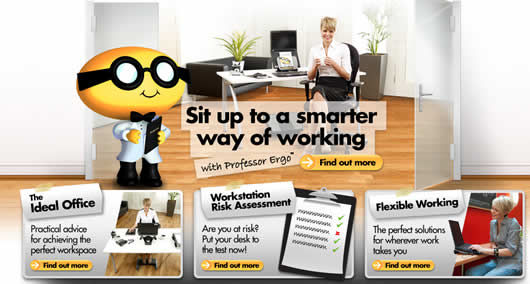 Workplace Solutions with 3M
Read about 3M Workplace Solutions and organise your desk and increase your comfort.